The Virginia Piedmont Regional Science Fair is a 501(c)3 non-profit volunteer organization. The Fair is affiliated with the International Science and Engineering Fair. The Intel International Science and Engineering Fair (Intel ISEF) is the world's largest pre-college celebration of science. Established in 1950 by the Society for Science & The Public and held annually in May, the Intel ISEF brings together over 1,400 students from more than 40 nations to compete for scholarships, tuition grants, internships, scientific field trips and the grand prize: a $50,000 college scholarship.
The Fair organization is governed by a Board of Directors who plan and prepare for the Fair in the year prior to fair day.
Our Mission
Much more than a competition, the Virginia Piedmont Regional Science Fair is an educational and motivating experience for the students. Your involvement as a sponsor or volunteer is an opportunity to encourage young people who have already begun to show serious interest in science and engineering. China and India graduate 14 engineers for every one graduated in the USA. With your support the Fair can help inspire many of these students to pursue careers in science or engineering and keep our region and the USA competitive internationally.
Participants
About 300 students from Piedmont Virginia representing more than thirty different schools from over a dozen school divisions participate. For specific information about the current or most recent fair go to the Fair Program page.
Middle School students (Junior Division) and High School students (Senior Division) are judged separately in each of 17 science and engineering categories. Schools within Albemarle, Culpeper, Fluvanna, Green, King George, Louisa, Madison, Nelson, Orange, Rappahannock, Spotsylvania, and Stafford counties are in the Science Fair region. We welcome the participation of all 6th through 12th grade students in our region even when their school does not include the Fair in their science program.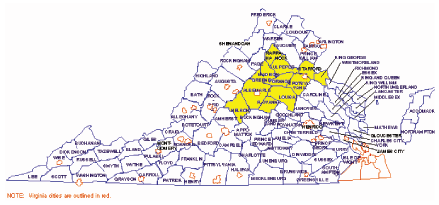 Students compete in their school fairs where projects are  selected to participate in our Regional Fair. At our fair they are interviewed  by a panel of volunteer judges who are often from a scientific or engineering  field themselves. The winners are announced the evening of the Fair.
Winners Advance
• Two Senior Division "Grand Award Winners" win expense-paid trips to the  Intel International Science & Engineering Fair where students compete for over  $3 million in awards and scholarships.
• Each Senior Division 1st Place category award winner is invited to advance to the  Virginia State Science & Engineering Fair.
• Each Junior Division 1st Place category award winner is invited to  participate in the SSP  Middle School Program, a national science competition.
Awards
• First, second and third place is awarded in each category and division.
• More than 100 special awards are presented by more than 30 organizations.
Chairman's Message:
It is my privilege to be involved with this organization for over 25 years. For me personally, I want to give back to our students some of the inspiration I received as a participant in regional, state and international science fairs when I was a student. My experience taught me enough to change my life and I believe our fair has the potential to have the same effect on some of our region's bright young students.

A science fair is a competition in which students exhibit and demonstrate their projects to the judges and the public. The science fair serves several purposes: it stimulates in young people an active interest in science and engineering; it provides an educational experience to students in addition to the classroom through exposure to mentors, judges and the public; and it provides a forum for talented students to interact with peers with similar interests and to receive public recognition for their work. We hope our students' science fair experience contributes to the decision of some to enter a science or engineering profession.

On behalf of our organization, let me take this opportunity to congratulate all the participating students from our region. The students have worked diligently to prepare projects involving mathematic, scientific or engineering principles. Although certain students will be singled out for special recognition, every participating student is a winner. We would like to thank the parents and teachers of these students for their support. We know that without the guidance and encouragement of parents, and the dedication and skills of teachers and mentors, our students could not carry out their projects to successful completion.

There are many students who could be eligible to participate in our Fair. Albemarle, Culpeper, Fluvanna, Greene, King George, Louisa, Madison, Nelson, Orange, Rappahannock, Spotsylvania, and Stafford counties are in our Science Fair region. If you know a student, teacher, science coordinator, PTO chairman, principal or administrator in the region, talk to them about participating in our fair and ask them to contact us! The project and presentation experience are great learning opportunities that can inspire careers that our region and country needs to remain secure and competitive. Help us spread the word.

We sincerely thank our sponsors and volunteers for their support of our region's young students. Your contributions will encourage their continued interest in the sciences and engineering and recognize their discovery and learning through completing a scientific investigation. I also want to thank our Board, and especially Adrian Felts, VPRSF's Fair Director, for their commitment and leadership. The organization is privileged to have them.

Congratulations and best of luck to all our students!

Gary F. Henry
Chairman of the Board